President Nana Addo Dankwa Akufo-Addo, has presented 100 pick-up vehicles, 600 motorbikes, and six Armoured Personnel Carrier (APC) vehicles to the Police Service.
In addition, the President also commissioned the National Police Headquarters project which was recently given a facelift.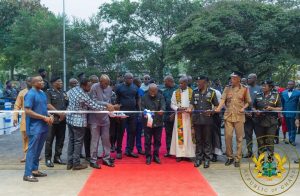 Presenting the equipment, President Akufo-Addo believes they, "are evidence, if any were needed, of Government's commitment to the continuous retooling of the Police, a responsibility my government takes very seriously. It is borne out of the fact that the Police plays a critical role in the development of our country, hence the need to ensure that the Police Service is adequately resourced to discharge its duties for the safety and security of all of us, as well as for the growth of economic activity".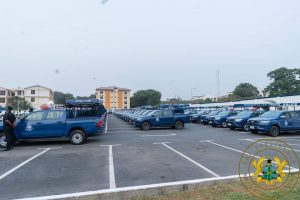 The equipment are to be used by the Formed Police Units (FPUs) in all regions of the country.
"Until recently, the FPU was only stationed in Accra. However, through support from government, the Unit was extended to Kumasi in the Ashanti Region, and is and now being formed in all the other regions," President Akufo-Addo said.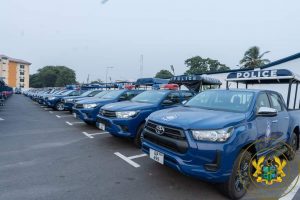 He stressed that "All regions across the country are soon going to benefit from the services of this specialised unit. These Regional FPUs will be spread across one hundred and forty (140) bases in various communities in all the regions. Without any doubt, their presence will enhance greatly security, law and order in the country."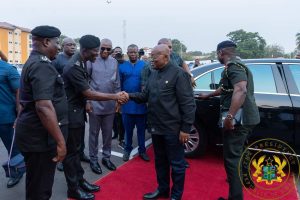 President Akufo-Addo urged the officers, men and women, from the FPUs to undertake their duties with utmost professionalism, adding that, "Show love and civility to the communities you will be in, but, at the same time, do your work without fear or favour. Always remember that you are accountable to the good people of Ghana."
The President acknowledged the numerous renovations and changes that have been carried out on the frontage and the immediate surroundings of the Police Headquarters – the reconstruction of the walls around the headquarters, the remodelling of the gates and the renovation of the CID building.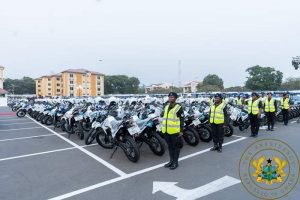 "The landscaping around the entire building and on your premises will not go unnoticed. I dare say, if we were to rank all public buildings now, the Police Headquarters will most likely emerge as one of the best in terms of the appearance of the surroundings. I must say when an environment looks this beautiful and put together, it creates a sense of orderliness and discipline in the minds of its patrons. I commend the leadership of the Service for embarking on this renovation and facelift project," he added.
Source: DGN