The ruling New Patriotic Party has urged members of the party in the Bibiani-Anhwiaso-Bekwai constituency to abstain from an imminent demonstration being spearheaded by the member of Parliament, Alfred Obeng-Boateng.
An audio alleged to have been authored by the NPP MP which has since been shared on a number of the party's platforms is asking constitutents and all members of the party especially in the Bibiani-Anhwiaso-Bekwai constituency to join him demonstrate against the Municipal Assembly over lack of development.
"We want to have about 10,000 participants and we want them to know how frustrated we are. It is not for Alfred Obeng-Boateng's interest.
"If for two years, since we came into office, we cannot point to a single project that the municipality has done for the communities except those I have used my personal finances, then we have a reason to demonstrate," the alleged audio revealed.
But, the General Secretary of the NPP, Justin Kodua Frimpong has wrotten to the constituency through its Chairman, Kwame Asamoah who is also the Presiding Member of the Bibiani-Anhwiaso-Bekwai Municipal assembly, asking members of the NPP to abstain from the demonstration next week.
It is also reported that another group from the ruling party intends to faceoff with the aggrieved group led by the MP.
"I have been directed by the General Secretary, Justin Frimpong Kodua Esq to inform all party members, Polling Station Executives, Electoral Area Coordinators and Constituency Executives to desist from organising and participating in any press conference by the two groups in order not to tarnish the good image of the party and our hardworking government. The General Secretary entreats all party leadership and faithful to embrace the appropriate forum to address their grievances and concerns in the party," Mr. Koduah added.
In 2021, the MCE for Bibiani-Anhwiaso-Bekwai, Alfred Amoah died after being involved in an accident.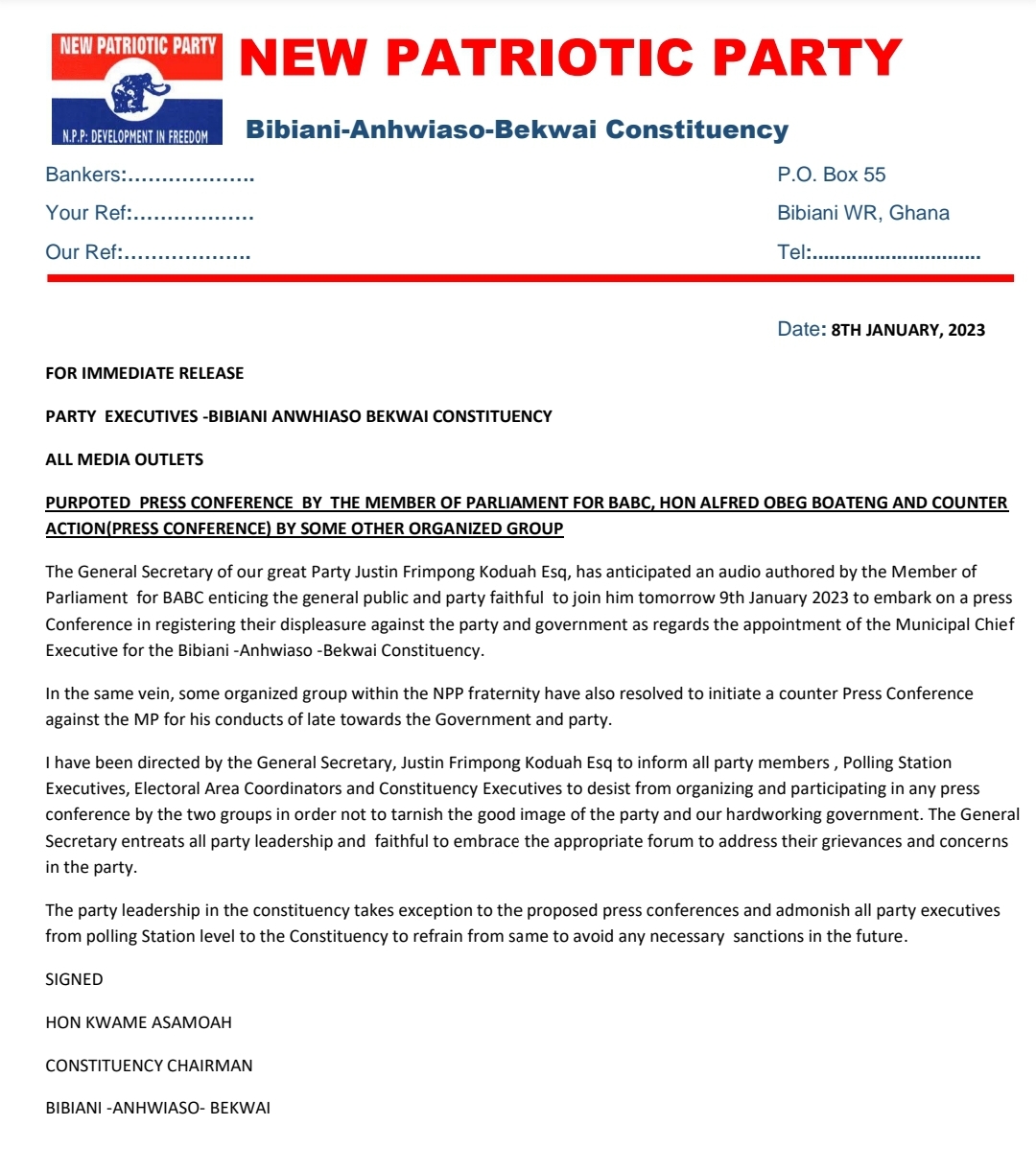 Onuaonline.com