The opposition National Democratic Congress has tasked all its Members of Parliament to suspend their activities in the 136 constituencies and stay in Parliament to fight the Constitutional Instrument (CI) the Electoral Commission (EC) is seeking to lay before Parliament.
The Electoral Commission is seeking to lay the CI before Parliament this week.
Already, the Minority in Parliament has warned that any attempt by the EC to use the Ghana card as a sole identity for acquiring a voter's ID will disenfranchise millions of Ghanaians.
The EC chair, Jean Mensa in Parliament last week said using the Ghana card as the sole requirement to register as a voter will prevent minors and foreigners from getting onto the electoral register to vote.
Briefing Parliament on Tuesday, February 28, 2023, Mrs Mensa said, "the use of only Ghana Card will ensure and guarantee the credibility of the register and elections, prevent enrolment of minors, prevent foreigners from voting, eliminate the guarantor system which is prone to abuse."
But Minority Leader, Cassiel Ato Forson said there is a deliberate ploy to disenfranchise Ghanaians.
However, the opposition NDC in a statement signed by the General Secretary, Fiifi Kwerety said the party at its meeting held on Tuesday,  March 7, 2023, decided that the Functional Executive Committee of the in solidarity with the Minority Caucus has declared "Operation Save Our Democracy".
The Party said it has directed that; "All campaign activities in all constituencies with sitting NDC MPs are hereby suspended, all sitting NDC MPs, shall be required to attend all Parliamentary sittings, No NDC MP shall undertake any travel that will affect his or her attendance in Parliament, and also any MP who has travelled is hereby recalled immediately".
The NDC also directed that "All regionall and constituency executives and aspirants are directed to ensure strict compliance with the directives herein. All parliamentary aspirants, are hereby directed in their interest, to strictly adhere to these directives as a breach of same shall attract severe sanctions, adding that the dates for the filing of nominations, vetting of parliamentary aspirants and parliamentary
primaries shall remain unchanged".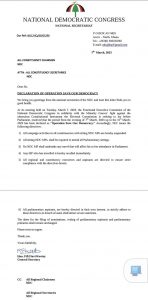 Source: DGN