The Coalition of NABCo Trainees has stressed that the men and women paraded as members during Ghana at 66 celebrations are not members of the Nation Builders Corps.
According to the Coalition, the group of people seen dressed in traditional attire and representing NABCO personnel are party sympathisers of the New Patriotic Party (NPP).
"Our critical investigation after the program indicates that, the young men and women who were in traditional cloth were NPP party faithfuls who were compelled to represent NABCO Trainees," the Coalition of NABCO trainees said in a statement.
The Coalition argues that no eligible and rational NABCO trainee in this devastated working condition will have the appetite to be paraded to march under this scorchy sun to celebrate Ghana's Independence.
The coalition adds that if it wanted to partake in the 66th Independence Day celebration, it would have used the opportunity to protest the bad treatment from government.
"How can personnel who have been in arrears for over (9) months be delighted to march under the sun, to achieve what aim? If we ever wanted to participate in the march, it would have been a march against deception and a demand for our salary arrears and sustainable livelihood," the Coalition added.
Meanwhile, the Coalition has warned that it will in no time do a proper march to register its disgruntlement to insensitive President Akufo-Addo who wants to ride on the reputation of vulnerable former NABCO beneficiaries to score political points.
"The beneficiaries of the nation builder's corps demand an unqualified apology from the government," the Coalition further stressed.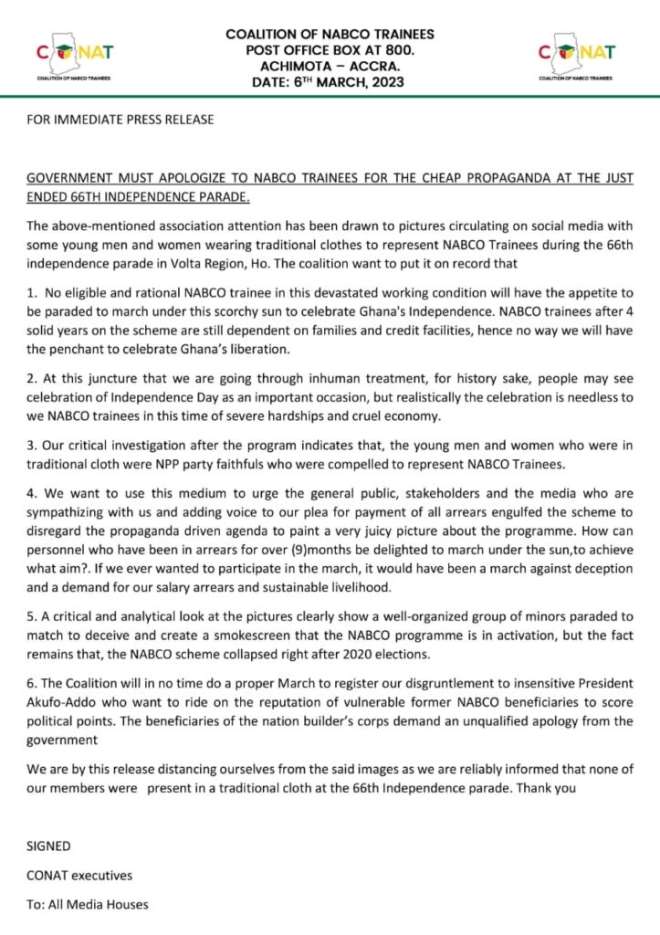 Source: MG