Son of presidential hopeful of the main opposition National Democratic Congress (NDC) and parliamentary aspirant for Sekyere Afram Plains, Dr. Kwabena Duffuor Junior has described as fake a campaign poster of himself and former President John Dramani Mahama soliciting for votes.
He has therefore asked delegates and members of the party to ignore the poster.
This is as a result of a flyer making rounds on social media showing Dr Kwabena Duffuor II, face captured alongside that of former President Mahama, making impression that he is campaigning for the former President to become a flagbearer than his father's bid to lead the party into 2024 polls.
But the Economist in a statement emphasized that he has not and will not have a poster of his with the picture of any aspiring Flagbearer.
"I want to make it clear that I have not authorized or endorsed any poster featuring a picture of myself alongside any aspiring Flagbearer. Any such fake posters in circulation are without my approval or sanction and are not representative of my position or views."
"As we approach the Presidential primaries, it is crucial that we all remember that the decision of who to elect as Flagbearer lies with the delegates. While I have confidence in my father, Dr. Kwabena Duffuor, as a competent leader for the NDC, it is not for me to make that decision," the statement added,
Dr. Duffuor II therefore urged people vying for various positions in the party to campaign with decorum, adding that "it is essential that we conduct ourselves with dignity and respect. Let us all work together towards Victory 2024. May God bless us all."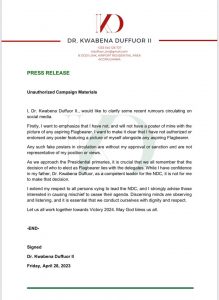 Source: DGN