Some youth of Tema are armed to the teeth following the demolition of several structures by unknown person at Bankuman, a suburb of Tema Newtown in the Greater Accra Region.
The youth backed by the Tema Traditional Council have threatened to unleash mayhem on the perpetrators of the acts behind the demolition near the Gao Lagoon.
Per sources, the land was located by the TDC Tema Development Company (TDC) to a company called Generations in the year 2006 who later sold to the Bulk Oil and Transportation Company (BOST) who intend to use it for an LNG Plant.
The Tema Traditional Council was said to have allocated some acres of the stretch to some indegenes believing that it falls within its jurisdiction.
It was following the development of the land by the indegenes who are putting up structures for accommodation when the demolition took place.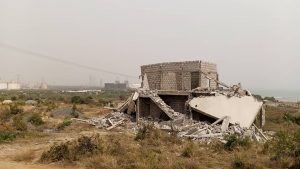 The demolition was reportedly undertaken at midnight with bulldozers under armed guards.
However, the indegenes managed to stop the exercise upon getting information and seized two bulldozers and trucks.
The earth moving machines have been handed over to the police who have initiated investigations into the matter.
But no suspects have been arrested in connection with the act which has heightened tension in the area.
A visit to the site by DGN Online revealed flatten of several uncompleted buildings including high rise structures which were under construction.
Nii Amarh Sompunu II, the Stool Secretary of the Tema Traditional Council at a press conference in Tema, pointed out that some companies, which got the land from the TDC, had demolished buildings of some indigenes claiming ownership of those lands.
He expressed shock there was no court order backing the demolition and through the vigilance of the Traditional Council some of the perpetrators of the demolishing were apprehended at midnight, during the act and handed over to the police.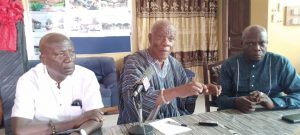 Nii Shippi mentioned that a company, came to the rescue of the arrested persons and took responsibility for the demolition.
Nii Sompunu called on the Government to help prevent encroachment on the Council's lands since it would not back down on efforts to protect its lands from intruders.
Responding to the Council's allegations, Ian Okwei, Protocol and Administrative Officer of TDC, refuted the claims by the Council.
He said "It was unfortunate on the part of the Traditional Council to make those accusation," the right of entry of 16 acres of land in the area was secured by a private company somewhere in 2006 who later sold it to a state company.
"The whole area described by the Traditional Council is under the Tema acquisition area of TDC and the heavy industrial area, which shares a boundary with the Council," he said, adding that the area is not good habitant considering the nature of highly inflammaable companies like the West Africa Gas Pipeline among others.
But Mr Okwei, posited that the TDC would engage the Council and iron things out for peace to prevail.
Source: DGN